Main Content
Scroll Down For Property Details
14381 Miranda Way
Los Altos Hills, CA 94022
Beds

5

Baths

7

Lot Area

42,756.4 sq. ft
About This Property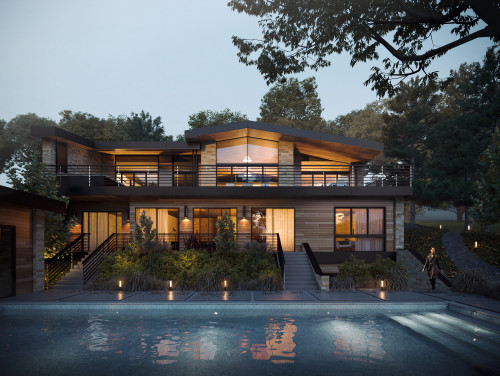 Accessed off a cul-de-sac by a long narrow "flag" and with a modicum of flat ground, with sweeping views of the Bay and Easy Bay Hills, this parcel is proposed to have a 3 level main home of 5,000 s.f., 2,000 s.f. basement, detached ADU of 800 s.f., and a large pool.
The parcel is an approx. 42,756.4 Sq Ft sloping lot on Miranda Way in Los Altos Hills. Plans for a new single-family residence with 5 bedrooms and 7 bathrooms with a 638 Sq Ft garage and 270 Sq Ft pool house. There is planned to be a new 800 Sq Ft accessory dwelling unit (ADU) with 1 bedroom and 1 bath.
Plans for a "T" shaped plan creating two courtyards, one for parking/entry and the other for an elevated balcony at the entry-level. The main living areas will have views of both the valley floor and the pool area. The detached ADU rests downhill from the site and is designed to not impact the privacy of the main house or the neighbors.
The house presents itself to the street as a relatively modest single-story ranch home, whereas the view side of the property opens out with 3 levels of floor-ceiling glass overlooking the outdoor space and the infinity pool below.
SCOPE OF WORK: NEW SINGLE-FAMILY RESIDENCE WITH 5 BEDROOMS AND 7 BATHROOMS, ADU WITH 1 BEDROOM AND 1 BATHROOM ON A 42,756.4 SF LOT. TOTAL CONDITIONED LIVING AREA OF MAIN HOUSE TO BE 4301.0 SF, AND GARAGE AREA TO BE 652.1SF. TOTAL FLOOR AREA PER LOS ALTOS HILLS DEFINITION TO BE 4999.2 SF. CONDITIONED LIVING AREA OF ADU TO BE 800 S.F. AND IS EXEMPT FROM MFA/MDA CALCULATIONS.